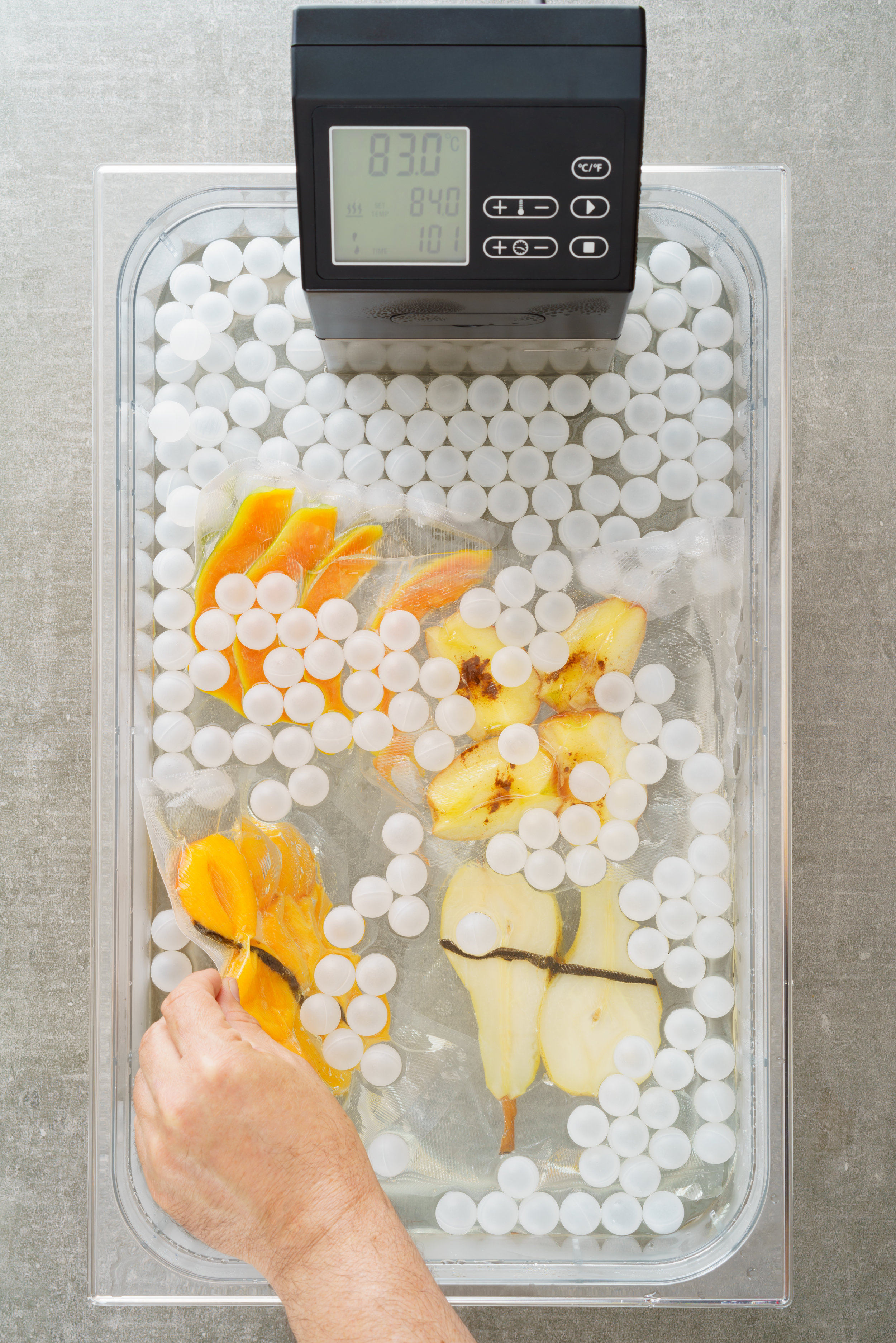 What's our secret?
Sous vide.
And what's that, you ask?
As seen on Masterchef and in almost every top restaurant - the cooking is done in a vacuum sealed environment -hence the French name sous (under) + vide (vacuum).
Using this method we can cook at extremely precise temperatures- the professional equipment we use is accurate to ±0.05ºC.
This method preserves all the natural flavours, juices and nutrients of the food and results in absolutely perfect done-ness.
Best of all there is zero risk of undercooked-sausage sickness!
To finish the process we then quickly grill the (now fully cooked) food over hot coals to add that characteristic smokey flavour, char-grilled beauty and an inviting aroma!
So now you know our secret.
Browse our unique menus below to find your perfect match.
-Classic British Barbecue-
from £19pp
Classic recipes using locally sourced premium ingredients
from £19pp
Butchers 100% Beef Burgers
Served medium, simply seasoned and topped with melted cheese in a glazed brioche bun
with extra mature Cheddar, West Country Stilton or Dutch chilli cheese
Selection of Classic British Sausages
Butchers own recipe- served snappy, juicy & firm in fresh white rolls
including classic Cumberland, salt & cracked black pepper, spicy jalapeño
Slow-cooked BBQ Chicken Quarters
Crispy skin and tender meat, brushed with butter and a sprinkling of Cornish sea salt and thyme
Grilled Portabello Mushroom & Halloumi Burgers (v)
served with pesto mayonnaise in toasted brioche bun
Classic Creamy Coleslaw
with a double cream & mayonnaise dressing
British Garden Salad
Mixed leaf salad with cherry tomatoes, carrot spirals and sliced red onion with homemade salad cream dressing made from British rapeseed oil
Summer New Potato Salad
Jersey royals in a creamy dressing with gherkins, capers and parsley
Individual Eton Mess Pots
Fresh raspberries, raspberry compote, crushed meringues and whipped cream
Homemade Strawberry Lemonade
Made with fresh British strawberries, squeezed lemons and sweetened with cloudy apple juice
-Luxury Barbecue Banquet-
from £24pp
Premium ingredients & special preparation
from £24pp
Minute-Steak Sandwiches
Thin-cut ribeye steak grilled for just moments per side, served with caramelised onion relish and horseradish mayo on a chewy ciabatta bun
24-hour Pork Shoulder
finished over high heat for tender meat with crispy charred edges, served in soft white rolls with fresh apple slaw and sweet apple sauce
Chicken & Bacon Burgers
Chicken breast fillets wrapped in smoked streaky bacon, served with crisp lettuce and cool yogurt mayo in brioche bun
Grilled Portabello & Halloumi Burgers
served with homemade pesto mayonnaise in toasted brioche bun
British Secret Garden Salad
Mixed leaf salad with fresh asparagus, radish and beetroot, topped with soft boiled eggs and fresh herb dressing
Coronation Chicken Salad
Lambs lettuce salad with diced chicken breast, dried sultanas, flaked almonds and creamy coronation dressing
Summer Fruit Salad
Freshly sliced organic orchard fruits and fresh berries served with homemade fresh mint syrup
Homemade Peach Iced Tea
Served with sliced ripe peaches, lemons and packed with crushed ice
-All American BBQ Classics-
from £24pp
Authentic cuts & bold flavours from across the pond
from £24pp
Smokey Brisket Sliders
Slow cooked for 36 hours and finished on the grill- thick slices of juicy beef brisket served with dill pickles and mustard mayo on soft white rolls
BBQ Babyback Ribs
Perfectly roasted pull-off-the-bone ribs with a honey-Bourbon BBQ glaze
Buffalo BBQ Chicken Wings
Tender & charred chicken wings served with Franks RedHot classic buffalo sauce and blue cheese dip
Classic Caesar Salad
little gem lettuce salad with crispy bacon, garlic croutons, flaked Parmesan and home-made Caesar dressing
Classic Macaroni Pasta Salad
With white crab meat, diced red peppers, spring onion and jalapeños and dressed with a homemade yogurt-mayo dressing
Astoria Waldorf Salad
with grapes, walnuts, celery, mixed apple, dried fruit and homemade creamy dressing
Fresh No-Jito Pitcher
Virgin Mojitos made with freshly squeezed limes, fresh mint leaves and dark molasses
Toasted Marshmallow Skewers
with whole strawberries and mini chocolate brownies served with a drizzle of chocolate sauce
An exciting fusion of south European and North African. Prefect for hot weather - from £24pp
Grilled lemon & corriander chicicken thighs
served with pine nuts, preserved lemons & green olives
Sticky pomegranate glazed lamb meatballs
served with fresh pomegranate, mint and sesame seeds
Saffron & rosemary marinated chicken fillets
served with saffron yogurt sauce & black poppy seeds
Harissa & blackened onion beef skewers
served with chopped parsley, & spring onions
Tri-colour Carrot Salad
Shaved purple, yellow and orange carrots served with a pistachio, mint and caraway dressing
Warm Courgette Salad
Ribboned summer courgettes with a hot garlic, lemon and olive oil dressing
Rainbow Quinoa & Squash Salad
Roasted butternut squash and mixed quinoa with whole chickpeas. chopped nuts and dried apricots with a spicy 'Ras el Hanout' dressing
Aubergine Chermoula
A rich and warmly spiced tomato sauce with braised aubergines, courgettes and red peppers, and dressed with honey, sesame seeds and olive oil
Authentic Baklava
layers of fine filo pastry with chopped walnuts and pistachios, honey and rose petals
Mint Iced Tea
flavoured with orange blossom, fresh mint & sweetened with honey
£

24pp
Authentic Italian recipe pizzas cooked in a traditional wood fired pizza oven - From
A selection of authentic Italian cheeses and cured meats
served with a selection of nuts, dried fruits, fresh crostini & chutneys
Marinated Black & Green Olives
with extra virgin olive oil, red peppers & herbs
Marinated Sun-dried Tomatoes
with extra virgin olive oil, garlic and chilli flakes
Pickled Artichoke Hearts
with fresh herbs and balsamic glaze
Salad Bar
Light and fresh with bold Italian flavours
Classic Caesar Salad
little gem lettuce, garlic croutons, pancetta, Parmesan and Caesar dressing
Caprese Bufala di Campana
Buffalo mozzarella, vine-ripened tomatoes, fresh basil leaves and a basil dressing
Carpaccio of blood orange and Prosciutto
with thinly sliced fennel, pine nuts and olive oil drizzle
Pizzas
Hand stretched from fresh dough and fine semolina flour
Margarita
Buffalo mozzarella with rich tomato sauce and torn basil
Bianca
Ricotta base pizza with Parmesan, pancetta, grated mozzarella and rocket
Funghi
Wild mushrooms and dried porcini with diced mozzarella and topped with oregano
Milano
Thin crust layered with salami, mozarella and classic tomato sauce
Asperagi
Ricotta base with shaved asparagus, pine nuts and finished with lemon juice and olive oil
Tonno Finocchio
Tomato base with flaked tuna fillet, fennel bulb and fennel seed, red onion and black olives
Dolce
Individual Tiramisu
Espresso & amaretto soaked finger biscuits layered with creamy whipped mascarpone and dark cocoa powder
Homemade Sicilian Lemonade
served still or sparkling with fresh Sicilian lemons
Classic & healthy Mediterranean flavours & cooking techniques - From £24pp
Fresh toasted pitta breads
with greek olive oil, sea salt and rubbed oregano
Marinated Kalamata Olives
with garlic, chilli flakes and fresh herbs
Marinated Feta Cubes
with fresh herbs, garlic. lemon and extra virgin olive oil
Cheese Stuffed Mini Red Peppers
marinated in olive oil, garlic and herbs
Trio of Authentic Dipping Sauces
including Tzatziki, Hummus and Tirokafteri (spicy cheese dip)
Traditional Greek Salad
with tomato, cucumber, green pepper, red onions, olives, Feta cheese, olive oil and oregano
Greek Potato Salad
with thinly sliced red onions and a yogurt, lemon & dill dressing
Grilled Lemon & Herb Chicken Souvlaki Skewers
gently grilled and served with a yogurt mint sauce
Grilled Smoked Paprika Pork Souvlaki Skewers
grilled over high heat and served with mustard mayonnaise
Roasted Fresh Vegerables
including blackened cherry tomatoes, chargrilled peppers and roasted zuccini
Classic Baklava
with walnuts and pitsachios and sweet honey syrup
Iced Coffee
regular or decaffeinated, served slightly sweet and ice cold